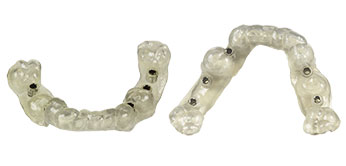 Implant Surgical Guides
RCAD Surgical Guides are 3D printed in an FDA approved clear biocompatible material. Guide tubes can be ordered from RCAD or you can insert your own into the unfinished guide. Guides to be printed must be submitted in STL file format. Design services available upon request.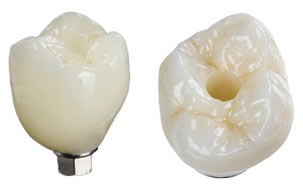 Full Zirconia Implant Crown
This is a one piece implant crown milled out of Lava+ material. This restoration solution makes the seating appointment much quicker and simpler while also adding strength from a full zirconia restoration and retrievability with screw-retained. This implant restoration is available in all popular implant systems and flat priced for your convenience. No more expensive parts, alloy, and casting techniques to produce this screw-retained implant restoration as it is fabricated using our CAD/CAM technology.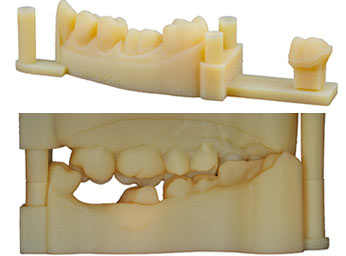 Printed Models
Our printed models are made from a rigid polyurethane material with an opaque matte finish which are great for fine tuning your restorations on. Your sectioned models with removable dies will have a snap-like fit with no wobble. We also offer a second version of our printed model in the unsectioned format which is great as a solid check model. We attach a single die off the back of the model for easy verification of fit and margins without the need for a removable die. Further, our models are printed in hollow formats to reduce material cost which can be designed as an open bottom or closed bottom and filled with support material for extra durability.

Printed Orthodontic Models
Export to STL from OrthoCAD iRecord or Ortho Select software for your Orthodontic model needs. RCAD printed Orthodontic models come in a variety of styles. All can be finished in matte or glossy finishes. Fees vary according to amount of resin required.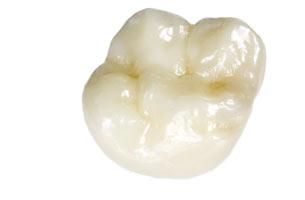 Full Zirconia
RCAD Full Zirconia is RCAD's in-house brand of zirconia. It's fabricated in our milling facility utilizing state of the art CAD/CAM technology. The RCAD Full Zirconia material has superior translucency to most zirconias on the market. This is a strong alternative to a full cast crown and is great as a single shaded economical solution.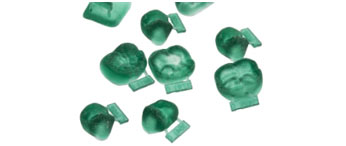 Wax Patterns
RCAD printed wax pattern material burns out clean and can be used for all of your laboratory's cast and pressed restorative needs. These are economically priced at $4 per unit with a 1 day turnaround time.